Pin It
Hello

!!
I'm here to share another entry for the
PTI July Blog Hop
!!
After I had made and given Irelyn her Coin Purse this morning, the kids decided they wanted to do their own projects!! =) I thought
AWESOME
this will keep them occupied for atleast a couple hours!! =)
(BONUS it took them 4 hours)
They each picked out their own colors of PTI Felt and they designed and picked out the other dies they wanted to use to decorate the Fronts of their Pockets!! I die cut the New
PTI Phone Case Die Set!!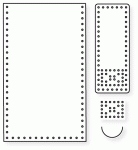 They had a BLAST making these and I gave them each a Blunt Needle to use for the Stitching!! They neither one have ever done anything like this and before so I think for their first projects they turned out AMAZING and I'm sure we will be doing this project again!! =)
THANKS SO MUCH
for stopping by and have a
FABULOUS WEEKEND
!!
COUNTRY HUGS-N-KISSES
LARISSA =)