Pin It
Hello

!!
Can you believe Halloween is just a couple days away!!?? I don't know where October has gone, but it's gone WAY to FAST for me!! I'm stopping in to share some
GHOSTLY Halloween Projects
that I have made using some AWESOME
Lil' Inker Designs Products
!! As soon as I got them I had a MILLION Ideas pop in my head on ways I could use them and I only got a Few of them created, but they are SO FUN to create!! So I wanted to share them you just in case you wanted to create some of these for yourself!!
So I'll start with the
CUTEST Little Ghost Felt Bag
EVER!! =) I even have a Tutorial so you can see EXACTLY how to make them!! They are SO EASY to put together and will create a HUGE SMILE filled with a SPECIAL Halloween Treat!!
First Die Cut two sides of an 18x8 inch White Felt Strip!! It will look like this!!
Then Pick another color plain or patterned Felt and Die Cut a Fun Border on one side of a 5x8 inch Piece of Felt!! Then Glue just the inside outline of the Ghosts Head down to the Pieces on both ends of the White Die Cut Ghost Strip!! You want to leave the edges of the Felt Strip FREE from Glue as we'll be sewing it later and we don't want it to cause any problems!! It will look like this once its Glued together!!
Then Fold the Wrong Sides together making sure to line everything up!! You can use Pins if you feel better doing it that way, but I just lined it up and then stitched on either side to create a 1/2 inch Seam!! I went ahead a stitched another seam at 1/4 inches too just for extra security, but you can skip this step if you'd like!! Then rim the Edges of the seams at an angle just to remove some of the bulk for a REALLY Clean Edge once we Flip it inside out!! Now you do have a FEW OPTIONS here ~ You can also sew a seam on the Right Side of your Back, but I didn't think I'd like the unfinished look!! It's an option though!! Also, if you don't have a Sewing Machine you can also just use a Fabric Glue to Glue the Sides together and you could do this either way!! It should look like this once its Sewn/Glued together!! =)
I then Flipped it inside out and Ironed the Seams Flat using the Wool Setting on my Iron!! I wanted to add a FUN Bow so I Die Cut a Small Stitched Bow using the Lil' Inker Designs Bow Die from some Purple Felt and Glued it together and then added a Black Stitched Vintage Gold Button!! I just LOVE the way it came together!! =) I have made several of these for my Nieces and Nephew and my Boys and filled them with a Few Special Treats!! They are just going to LOVE them and I can't wait to see their Faces when they find out what's inside!! =)
WOW Persian Blue Glitter Embossing Powder
!! It says its Blue, but when Embossed it is the PERFECT match for the Purple Felt I used on the Bow!!
LOVE
it!! =)
For my Next Project, I thought it would be FUN to create some
SPOOKY Little Belly Bands
of sorts for the Large Bags of MM's!! You could also do this for the Large Candy Bars and it would make the SWEETEST Teachers Gift!! I plan on giving these to Beckett Teachers and his Grandpa's as they both just LOVE Peanut MM's and they can be Decoration to as they sit on the Counter or even in the Cupboard and will make you SMILE EVEY Time you see them!! I just cut a Strip of Felt at x inches and Die Cut the one end using the Lil' Inker Ghost Border Die again and then die cut the Face and backed it with some Black Felt and my Belly Band was Finished!! I wrapped it around the Bag of MM's and Glued it together and there you have it an EASY and SPOOKY Treat ready to give!!
I also thought it would be FUN to create a
Coffee Cozy
!! =) I used two of the Ghost Felt Border Strips and Die Cut one SCARY Face and one HAPPY Face and then Glued them together to create the Cozy Base!! Then I embellished Both Sides using the Lil' Inker Spooky Die for the Scary Face side and adhered some Wiggly Eyes and then I Die Cut another Purple Felt Stitched Bow Die for the Happy side!! This way everyone will be able to see the MOOD your in just by looking at the way you're holding the Morning Coffee Cup!! SCARY means give me some time to WAKE UP and HAPPY Side means YEAH I'm AWAKE and woke up on the right side of the bed!! =) HAHAHAHAHA!! =)
For my Last Sweet Little Projects I've created some little
Spooky Treat Packages
for Beckett to take to School!! =) I've used the New
Lil' Inker Designs Pinking Edge Sentiment Flag Dies
on some Creative Die Cutting to Create these EASY and SPOOKY little Halloween Treat Holders!! I used the Largest Die and then Die Cut them using a 6x6 Paper!! Lining the Die up and not cutting it to the end of the die!! Then I flipped the Die over and Die Cut it again just creating the same Pinking Edge on the other end!! So when you score the and Fold them you have a matching Pinking Edge on both ends!! =) I then was able to fit a
Miniature Candy Bar
inside of each Holder!! I thought the Pinking Edge lended itself to creating Hair so I used that to my advantage when I was Creating these Cute Little Spooks!! I made a
Bat
, a
Cat
,
Frankenstein
, and a
Pumpkin
using Several of my other
Lil' Inker Designs Dies
to create the Face Parts I needed to create these!! I just
LOVE
how they came together!! (the stitched Triangles and Pumpkin Mouth are from a
PTI Stitched Pumpkin Die Set
)
So Hopefully, I have given you some ideas on ways you can use your
Lil' Inker Designs Dies
and add some
SPOOKY FUN
to the
HALLOWEEN
activities you have going on!!
I'm also linking these up for the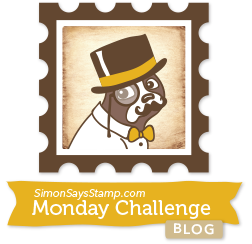 This Weeks Challenge is TREATS!! =)
THANKS SO MUCH
for stopping by today and have a
FABULOUS HALLOWEEN WEEK
!!
Just had to Close with this SWEET Picture of Greyson playing PEEK-A-BOO with me in his Swing!! =) I just LOVE this little guy!!
COUNTRY HUGS-N-KISSES
LARISSA =)