Pin It
Hello
!!
I'm back with another Card for the
Paper Trey Ink December Blog Hop
and the
Make It Monday #194 Challenge
!! I
LOVE
the colors and I have these BEAUTIFUL WOW Embossing Glitter Powders that I wanted to use!! I
LOVE
that they have Glitter in them and the
Fool's Gold WOW Embossing Glitter Powder
is actually a very AWESOME mixture of Gold Embossing Powder with a really Pretty Mauve Pink Glitter!! OH HOW I
LOVE
it!! So I thought it would be FUN to use a combination of different Powders to emboss the Snowflakes in my stamped border design!! I used ALL of the Snowflake Images from the
PTI Snow Globe Sentiments Stamp
Set
and then I used one of the Snowflakes from the PTI Snowflake Medley Stamp Set!! I used the
Fool's Gold, Sahara
, and the
Sierra Sunset WOW Embossing Glitter Powders
and they all work so well together!! Then I cut a Tag from the PTI Tag Set and then I die cut the PTI Snowflake Dies and layered them together!! The smaller one was cut from some Gold Metallic Vellum!! I
LOVE
how BEAUTIFUL it is in real life!! I then coated a Button with some Versa Mark and then covered it with the same BEATIFUL
Fool's Gold WOW Embossing
Glitter Powder
and created a really Neat Custom Center for my Snowflake!! I added some Twine and attached it altogether for the center of the Tag!! I made a Junk Bow for the Top and my card was finished!! =)
I'm also playing along with the
WOW Embossing Powder Challenge
over on their
Blog
!!
This month the theme was
Memories
!! I thought it would be FUN to share how BEAUTIFUL my Grandma always made the Holidays!! She has a collection of Glass Snowflake Ornaments and would use them on a Special Tree Every Year!! This card is a Reminder of that BEAUTIFUL Tree!! =)
I'm also linking this up for the
Simon Says Stamp Wednesday Challenge
!!
The theme is
ANYTHING GOES
!!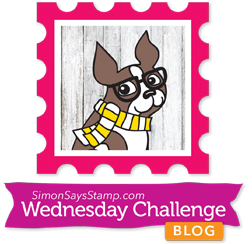 THANKS SO MUCH
for stopping by today and have a
Fabulous Weekend
!!
COUNTRY HUG-N-KISSES
LARISSA =)