Pin It
I am PRETTY NEW to Challenges!!
I have seen this challenge posted on several of my FAVROITE BLOGS and thought I would give it a try this week!! I am more of a Vintage, Distressed and kinda girly card designer!!
I LOVE that look, so designing Clean and Simple cards is kinda hard for me because I can't seem to feel like a card is finished if it isn't FULL of pretty things!! =) I decided that I wanted to try my hand at the Clean and Sipmle, but still add MY TOUCH to make the card feel like ME!! =)
So the challenge for this week is
CFC47: Let the Hunt Begin! Clean And Simple projects featuring something you'd find in an Easter Basket
you can join in on the fun here:
You have until April 11th at 12:00 to enter!! =)
The sponsor for the challenge is: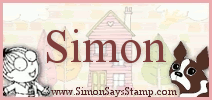 YEAH!! How wouldn't want to win this along with a chance to be a Guest Designer!!??
I was looking at the New Stamp sets from The Craft's Meow you can find them by clicking no the stamp set images!! I was thinking of how I could make a basket when I saw the bandaid and decided to stamp it out to see if I layered them if it would make a CUTE basket!!??
Well to my surprise it was SO CUTE!!
SO I then decided I needed some eggs to put in my basket and I decided to stamp the balloons and I cut them out of My Mind's Eye Miss Caroline collection decorative papers.
I added a fun handle and some twine bows and then a sentiment!! I LOVE the way it turned out!!
THANKS for stopping by and have a FABULOUS EASTER WEEKEND!! =)
COUNTRY HUGS-N-KISSES
LARISSA =)